Grad Wear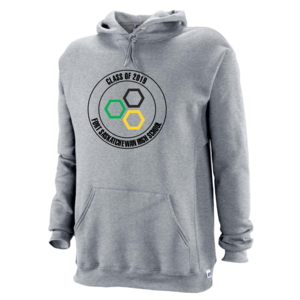 Our Grad Hoodie shop is finally open. Grads can go to fortsaskgrad2019.itemorder.com to select the style and size they prefer. This shop closes on April 28.
For other options, grads can design something on Fort Saskatchewan High School's online shop through Entripyshops.com. Check out the options available at http://fortsaskatche  wanhighschool.entripyshops.com/ and start designing the Grad Wear you wish to purchase.
Save the Date
Our graduation ceremony will be held on the evening of Saturday, May 25, 2019 at Millennium Place in Sherwood Park. The ceremony will begin at 6:00 p.m. with graduates arriving at Millennium Place between 5:15 & 5:30 p.m. Following the Commencement Ceremony, a Grand March and dance will take place in the same venue.
Graduation, or Commencement, is primarily an academic celebration where a student's educational achievements are recognized. Because it is a ceremony for the conferment of diplomas, students participating in the Commencement Ceremonies must be on track to earn the Alberta High School Diploma, Certificate of Achievement, or Certificate of School Completion.
Visit our Supporting Student Success tab on this website or the Alberta Education website for more information on graduation requirements.
Grad tickets will go on sale in early May. 
Graduation Requirements, Scholarships, etc.
For information about:
Graduation Requirements,
Scholarships/Bursaries/Awards, and
Diploma Exams & Diploma Prep Courses,
please visit our Supporting Student Success tab at FortHigh.ca.
Grad Jewelry
Class rings and jewelry are one way to commemorate your final year of high school. If you would like to look at ring options, visit Jostens.com. 
Commencement Gowns

Fort High arranges for eligible grade twelves to wear a rented gown and stole as well as a purchased cap and tassel during the Convocation Ceremony. Grads will be called down to the office and measured for their gowns in semester two. Grads who will not be here in second semester, please go to the office to be measured before this. It is your responsibility to get measured.
The Commencement Gowns, stoles, and caps will be at the Grad venue for Grads to pick up shortly before the Commencement Ceremony. Grads will be given instructions about where to enter, pick up gowns etc. during the rehearsal lunch on May 21st, 2019.
Grads have purchased the cap and tassel and may take them home after the ceremony. Following the ceremony (and after the Grad has had a chance to pose for some pictures!) the rented gown and stole must be returned to the location it was picked up at. 
Grad Rehearsal
This is a mandatory assembly for all graduating grade 12 students held on Tuesday, May 21st. The rehearsal will begin shortly before lunch and last the entire lunch period. Lunch will be provided for all grads. During this assembly, grads will be made familiar with the order of events for the Commencement Ceremony on the following Saturday as well as any last-minute information about Graduation day.
Alcohol/Substance Use
Elk Island Public Schools has a zero tolerance for alcohol or mood-altering substances at any Elk Island event. Fort Saskatchewan High School Graduation falls under this policy. If anyone is found to be intoxicated or suspected of being intoxicated they will be asked to leave the graduation event and not allowed back into the venue and appropriate school consequence will be assessed. If this happens there will not be any refund of fees paid for the event.
Grad Ticket Sales
Grad tickets will be on sale May 1 - May 15, 2019. Grad tickets will be sold online through the PowerSchool Parent Portal. Tickets cost $50 each for guests. Seats will be selected when tickets are purchased. Tickets do not need to be purchased for the graduating student as they are covered by their Grad fees.